I live in Vancouver, BC, so why in 2020 do I have this site hosted in Iowa? Who has the best web hosting for Canada in 2020? For that matter, what are the best web hosting options for the USA?
I have lived and worked in the US and UK as well as Canada, so I am familiar with the best web hosting providers in various countries. I have also traveled a lot, and have personally tested my sites from all over the world.
Don't sweat the distance
For performance reasons, it makes some sense to use a provider that has a data center near you, or near where your audience is. But don't worry about it too much – for most blogs and small sites, a data center near the center of the US will give excellent response times anywhere in North America. If your audience is in Europe, then a data center anywhere in Europe will work well.
Similarly, though, don't reject a data center on the east coast just because you live on the west coast. You might get slightly better page load times from a data center close to you, but once your site is up and running you should investigate CDNs such as Cloudflare, which can help deliver fast page loads from anywhere.
For web hosting in Canada, there are many reasons why you might want to use a data center in Canada, but if you are only concerned about performance, then any of the companies on the right will do a fine job hosting a site for Canada:
Web Hosting for Canada with GreenGeeks
My preferred hosting company with a Canadian data center is GreenGeeks. They have data centers in Montreal, Amsterdam, Phoenix, and Chicago. The pricing is very reasonable, and they run the servers on renewable energy.
Web Hosting for Canada with SiteGround
SiteGround has a US data center in Iowa, and three data centers in Europe (UK, Germany, and the Netherlands), plus others in Asia.
The big news for 2020 is that they have moved their hosting to the Google Cloud Platform. Here's a blog post about it. Hosting on Google Cloud means that your shared hosting account will be very reliable and perform very well. Google also offsets the entire carbon footprint.
SiteGround has reasonable prices, and is a great place to host WordPress – they have their own plugin to optimize your site for their environment, and another to speed up site migration – see my post about cloning your WordPress site to SiteGround. A big plus is that you can get a great price by signing up for just one year – you do not have to commit to three to get the cheapest price.
Web Hosting for Canada with A2 Hosting
A2 Hosting has US data centers in Arizona and Michigan, plus data centers in Europe and Asia. They also offer fast WordPress hosting, and also have their own plugin to optimize your site.
Web Hosting for Canada with Bluehost
Bluehost has two US data centers in Utah, and they have other data centers in Europe and Asia. Lots of bloggers recommend Bluehost, as does WordPress themselves, and they are a great option. You can sometimes get a good deal, but I often find other providers offering a better price for a similar service.
The best deal on Web Hosting for Canada in 2020
The very best pricing deal I have seen recently on web hosting for Canada is from SiteGround – yes, with the server in Iowa!. As of May 2020, you can get 3 months hosting for only 99 cents US, or a year for about $70 US.
Bottom line: if you need a data center in Canada, I would go with GreenGeeks, but to host a site for Canadian users, you cannot go wrong with any of these hosts, just take a look at what deals they are each running.
I'm going to write another post on performance testing, but here are some results from a test I ran recently. I live in Vancouver, so I wanted to test multiple providers for web hosting performance.
Web Host Performance for Vancouver, BC.
Please note that this is a test of the hosts, so I did not install any plugins or do anything to optimize the speed on any install – I just did a default WordPress install on each site, and imported the same content on each host.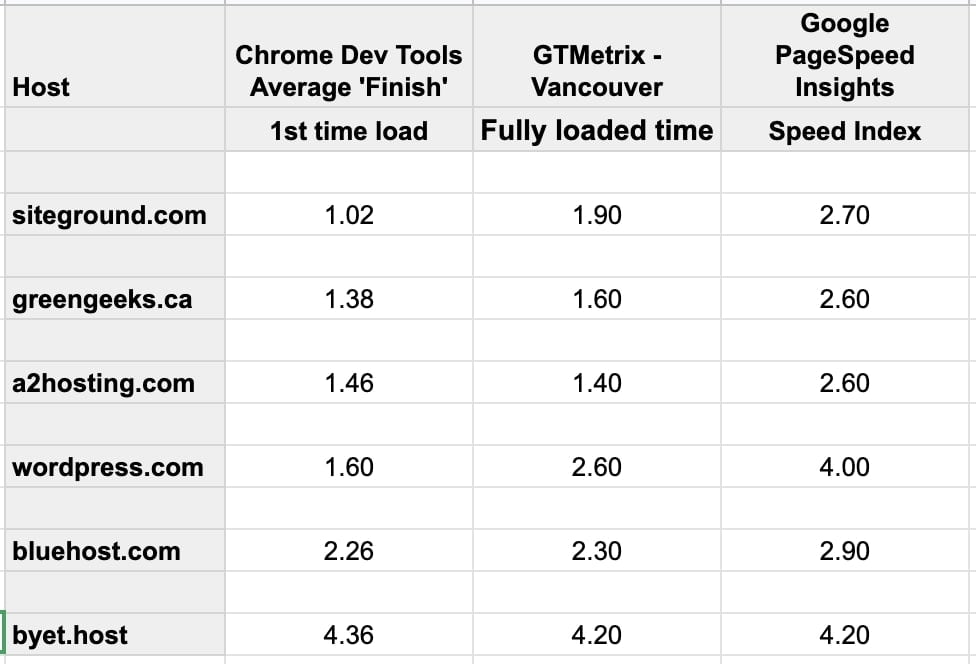 A quick summary:
I put up a test site at hostperformance.wordpress.com with some large blocks of text and images.
I used the WordPress export option to save the content, and then loaded it on a few different hosts, including a 'Free Hosting' site in Ohio – byet.host.
I did no optimization or caching on each host – I just did a default install of WordPress and then imported the content.
I tested each site after a series of clear browser cache and load, so that each site was 'warm'.
The results are in seconds, where lower is better:

'Average Finish' time to load the site fully on my laptop in Vancouver
'Fully loaded time' from GTMatrix, using the Vancouver server
'Speed Index' from Google PageSpeed Insights
Summary of web host performance results
It seems clear that SiteGround in Iowa and GreenGeeks in Montreal are very close in performance, and were best overall.
I was surprised that wordpress.com was not faster, since they limit your flexibility and have the opportunity to optimize the site.
I was also surprised that Bluehost was not faster for a default install.
The free site is clearly the slowest, but it's not bad considering what I paid for it!
Of course, you have to keep in mind that this test was a default install – I wanted to see what the results would be without doing any optimization and caching. I also did not buy any of the 'turbo' performance options that sites offer to upsell you from the basic install.