I've always been a web-hosting bargain-hunter, but I've always drawn the line at free website hosting. I always shop around for the best deal on shared hosting, but only from companies that I trust.
Why not free?
I've always stayed away from free shared hosting at companies like 000webhost or byet. There are lots of companies like these offering "totally free web hosting" but I've just never trusted them.
So when I was doing some performance testing recently between wordpress.com and my favorite hosting companies, I thought I would install on free website hosting for comparison.
After all, this test would involve installing a site with harmless content, so there was no risk, and it would be interesting to see what kind of spam I got from them.
Free website hosting – giving it a try!
.After a bit of research into different companies offering free website hosting, I decided to use byet.host. Their server is in Ohio, and they are owned by a UK company (iFastNet) that I had at least heard of, though never used. Also, 000webhost only gives 300 MBs of disk space. Yes, my test site would have fit, but few real sites would be able to work in this limit.
I used a newly created email address to sign up, so that if I got swamped with spam, I could just drop the email address. So far, though, I have just received the usual signup emails, and a small number of upsell emails to get me to move up from free website hosting.
The signup process on byet.com was fairly straightforward, although some of the screens are quite odd-looking, with large text messages. However, once signed up, I got access to a fairly standard cpanel, and could use Softaculous to install WordPress. However, a beginner to web hosting would probably find it difficult – not at all as seamless as setting up a new WordPress site on SiteGround.
So how does free website hosting perform?
As part of a larger performance test, I compared a WordPress install on byet.host with wordpress.com (which is the default for free WordPress sites), and with a few of my trusted hosts.
Here's a table of my initial results: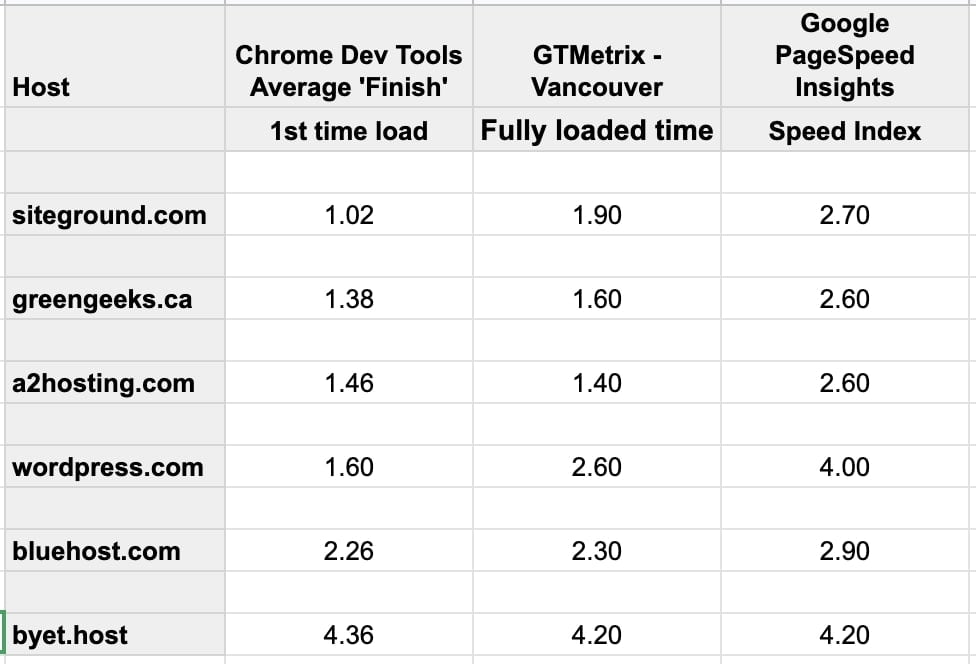 A quick explanation of the test and the results from my post on the best host for a Canadian website:
I put up a test site at hostperformance.wordpress.com with some large blocks of text and images. I'll leave it up if you want to see the content.
I used the WordPress export option to save the content, and then loaded it on a few different hosts, as well as the free website hosting on byet.host.
I did no optimization or caching on each host – I just did a default install of WordPress and then imported the content.
I tested each site after a series of 'clear browser cache' / load, so that each site was 'warm'.
The results are in seconds, where lower is better:

'Average Finish' to load the site fully on my laptop in Vancouver
'Fully loaded time' from GTMatrix, using the Vancouver server
'Speed Index' from Google PageSpeed Insights
Summary of web host performance results
It seems clear that SiteGround in Iowa and GreenGeeks in Montreal are very close in performance, and were best overall.
I was surprised that wordpress.com was not faster, since they limit your flexibility and have the opportunity to optimize the site.
I was also surprised that Bluehost was not faster for a default install.
The free site is clearly the slowest, but it's not bad considering what I paid for it!
Of course, you have to keep in mind that this test was a default install – I wanted to see what the results would be without doing any optimization and caching. I also did not buy any of the 'turbo' performance options that sites offer to upsell you from the basic install.
The free site is clearly the slowest, but it's not bad for a default install. I could install a few free plugins to cache and optimize, and it would probably be a workable option.
So it seems that my trepidation about free website hosting might be overblown. This one at least seems to be offering a free account as a teaser to get you signed up in hopes that you will transition fairly quickly to a paid account. That's where the problem arises, since the cheapest paid option with byet.host is more expensive than a hosting account with a larger company like SiteGround.
I use the Free Tier on AWS, Azure, or GCP as much as possible, and these vendors have a similar strategy to free website hosts – they give you a fixed amount of resources, and make money when your needs grow.
After trying out a free website host, I might use one again in the future for a test site. However, I still cannot recommend using a free host for a real site.